In this article, learn how to add or delete a payment method to your profile.
APPLIES TO: Clients
Last updated: February 8, 2023
Add Payment Method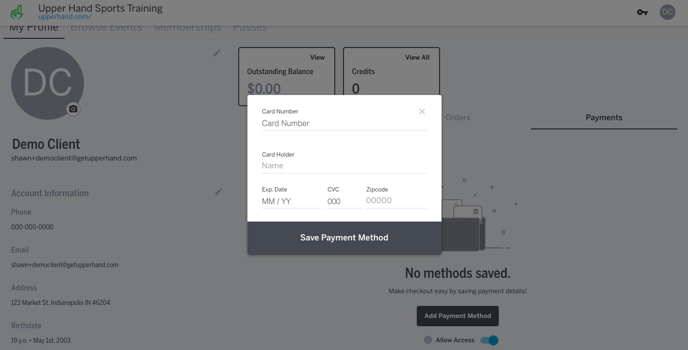 Type in the Card Number, Card Holder Name, Expiration Date, CVC and Zip Code
Click Save Payment Method when finished to save the payment method to your profile.
Delete Payment Method
Log in to your Upper Hand account and make sure you are on the My Profile tab.
Click on the Payments tab
Click the three dot menu on the card on file you would like to delete
Select Delete
Things to Note
You are also able to add a New Card at check out if the card you want to use is not stored in your account.
You are not able to delete a card if it is the only card on file and currently tied to an active membership or payment plan.