In this article, learn how to create an event to reserve a specific Resource.
APPLIES TO: Admins
Last updated: May 18, 2023
If you find yourself needing to reserve your resource space for a special event, you can create a private fixed event to block out some time for a particular resource,
Below are some recommended tips and strategies when blocking off a resource using an event but also feel free to schedule some time to meet with a member of our Education Team if you need further assistance.
Create Event to Reserve a Resource
Event & Location: When setting up the Event, make sure you have selected Fixed Schedule and have Private Event toggled on so that your clients don't see the event.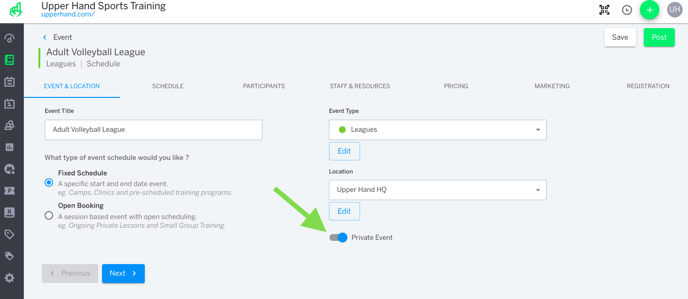 Schedule: Input the schedule of the dates/times you would like to reserve the resource for
Staff & Resources: Select the Resources you would like to reserve for the entirety of the event. Note: If a Resource is unavailable to select, you will need to remove it from any currently scheduled sessions that are causing the conflict.
Pricing: It is recommended to input $0.00 as the List Price and select the Free Event box if you aren't collecting payment for the event.
Click Save and then Post to finish creating the event and those Resources will now be reserved for this event.