In this article, learn how to edit a client's membership expiration date.
APPLIES TO: Admins and Staff
Last Updated: February 23, 2023
Overview
A membership expiration appears when a commitment length is set for a membership. The expiration will auto-renew at the end of the commitment length if cancel at end of period is not selected. If cancel at end of period is selected, then the membership will cancel after the set commitment length. You have the ability to edit the membership expiration allowing you to extend or shorten the client's commitment.
Edit Membership Expiration Date
Log in to your account and click Contacts in navigation panel on the left hand side
Search for the client you want to edit and select their name
In the client profile page, select the three dot menu located on the membership card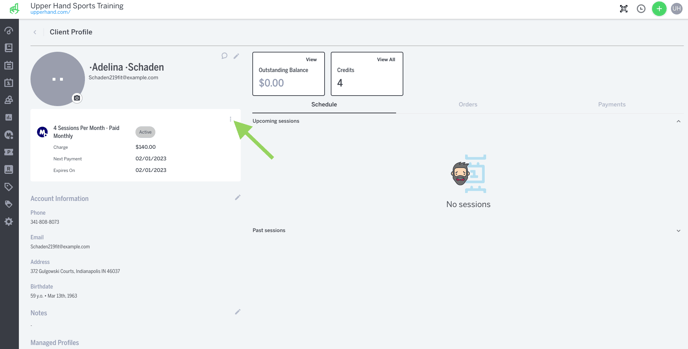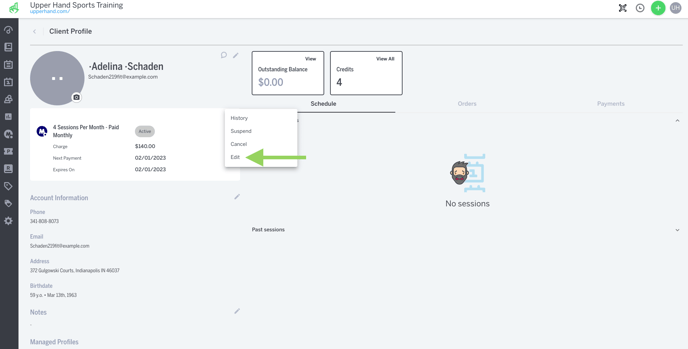 Select the new month you want the membership to expire
FAQ
Q: Can I select a different day of the month for the membership to expire?
A: No the day of the month will stay the same as their bill date, you can only change the month/year that the membership will expire

Q: If I change the expiration date of a membership but do not have "cancel at end of period" selected, will it impact anything?
A: This will not have any negative impact on the membership, it will just change the expiration date on the client profile

Q: Why is there no expiration date showing on my client's memberships?
A: If there is no expiration date showing, this means that you have not selected a commitment length for the membership

Q: If I extend a commitment length, will the client be billed those extra months?
A: Yes, the client will continue to be billed for every month that you extend their membership