In this article, learn how to access the URL to a specific Event.
APPLIES TO: Admins and Staff
Last updated: February 3, 2023
Overview
Each event that you create, will generate a specific URL that you can use to share with clients or post on your website, flyer(s), etc. You can access the Event Specific URL for each event in 2 different locations in the software. See below for steps on how to capture the URL for a specific event.
Event Admin View
Log in to your Upper Hand account and hover over the main navigation bar on the left, click Events
Click on the specific event that you would like to locate the URL for
From the Event Admin View, click on the chain-link icon, to the right of the comment icon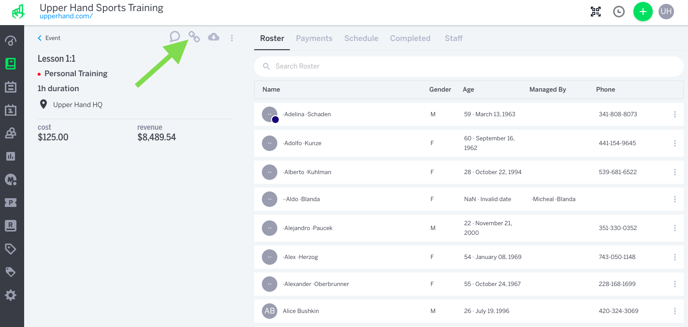 Now that you are on the specific Event Landing page, you can copy the full URL at the top of your browser and that will be your Event Specific URL that you can send to people or post on your website.