APPLIES TO: All users
Last updated: February 3, 2023
Upper Hand sends notification emails to inform you of events such as registration confirmations, payment receipts, cancellations, etc. You will also receive an email when you first sign up for an Upper Hand account, or when you need to verify your identity for security purposes.
If you notice that you're not receiving Upper Hand emails, follow the troubleshooting steps below to confirm that your Upper Hand notifications, email inbox, and allowlisting settings are correct.
If emails sent from Upper Hand are resulting in bounces or landing in your SPAM/junk folder, you can adjust your spam filter settings to improve deliverability.
Check your Upper Hand notification settings
Confirm that your notifications are enabled by logging into account, click your picture or initials in the top right corner and click Account Settings. Navigate to the Notifications tab and verify that your notifications are enabled.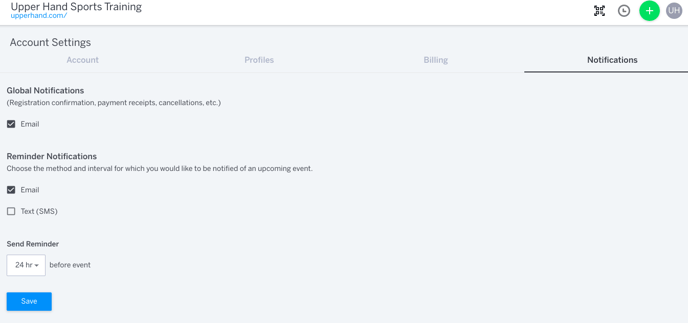 Search your email inbox for Upper Hand notifications
If you haven't received an Upper Hand notification email for several minutes, your email provider might be automatically filtering your notifications. You can try searching your inbox for support@getupperhand to find any existing notifications that may have been moved.
Check your email inbox settings
Based on the email you're using, you may need to update certain settings to ensure emails from Upper Hand aren't getting filtered out of your inbox. If you're expecting to receive a registration, reminder, or verification email from Upper Hand and nothing appears in your inbox, check your spam or junk folders to see if your email provider mistakenly filtered them out of your main inbox.
Allowlist Upper Hand email address
If you've checked your Upper Hand notification settings and confirmed your email isn't filtering Upper Hand emails, then you may need to update your allowlist or add Upper Hand as a "safe sender". If you are using a free email provider such as Gmail, you can find allowlisting instructions in their help documentation. You will want to include support@getupperhand.com in your allowlist.