In this article, learn how to sell a membership from Point-of-Sale.
APPLIES TO: Admins and Staff
Last updated: May 23, 2023
Sell a Membership - Step by Step Guide
Access Point of Sale by clicking the big green plus sign in the top right of the screen and click Point of Sale.
Search the name of the client you are looking to sell a membership to and click their name
Search the membership name of the membership you are wanting to sell
Select the Profile when prompted "For whom would you like to purchase this membership?
Click Add To Cart
Click Continue if you don't need to add any other Products to the Cart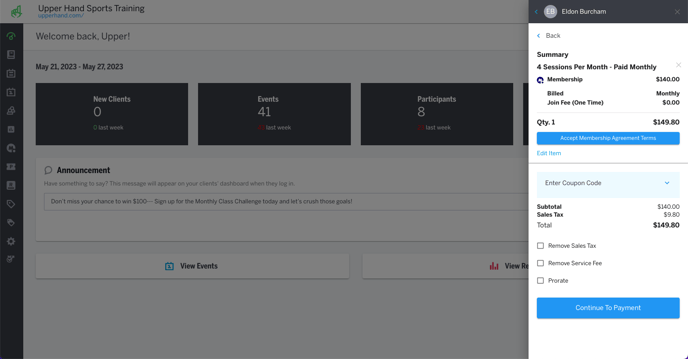 If you have a Membership Agreement, you will have the ability to accept the terms of the agreement for the client before continuing to payment. Note: This is not mandatory for Admin/Staff users.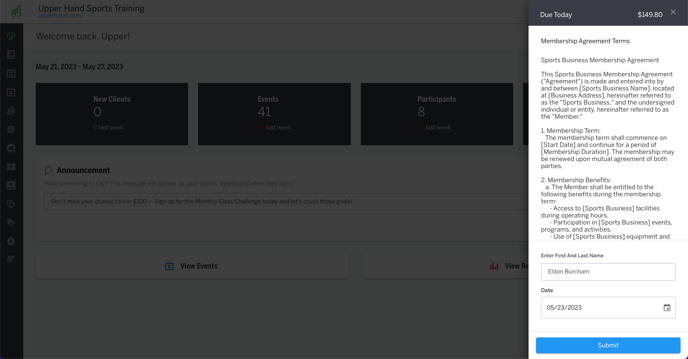 Review the Cart Details before proceeding by clicking Continue To Payment
Select the Payment Method and input the Credit Card information if necessary.

Note: If purchasing a membership with a credit card, you must Save Card in order to complete the purchase.

Click Purchase
Sell a Membership - Guided Walkthrough