In this article, learn how to set availability for you and your Staff.
APPLIES TO: Admins and Staff
Last Updated: February 9, 2023
Setting your staff's availability is the backbone of making sure your staff is only scheduled for events and sessions they can execute.
How To Set Staff Availability
After logging in to your Upper Hand account, click on Contacts located in the navigation bar on the left side of the screen.
Click on the Staff tab.
Click on the name of the staff member whose availability you are wanting to adjust.
Click the pencil icon located on the right of Availability.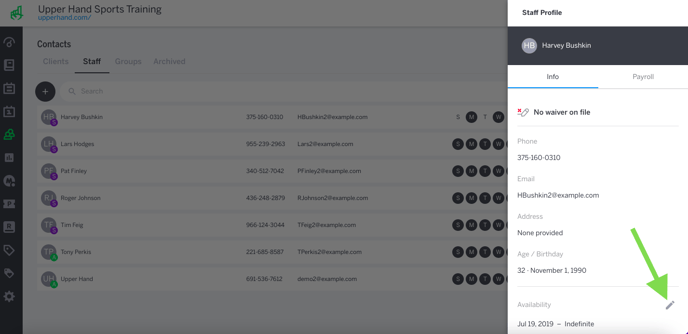 Choose a Start Date for your availability (if you would like this availability to last indefinitely, make sure the indefinite box is checked. For a limited date, uncheck and choose the end date).
Click the Days of the Week that you will be available.
Choose your Available Hours (if you need each day to have a specific start and end time, click the "Day specific" button. You are able to add multiple start and end times to a specific day. This is perfect for giving lunch breaks or having morning and evening trainings).
To set your availability for a specific date, select Add Date underneath Date Specific Availability. Select the date you want to set availability for. Set the time you are available on that date for.
Add any Blackout Days by clicking the Add Blackout Days button above the save button (to remove Blackout Days, click the X next to the date).
When your schedule is set, click the blue Save button.
Things to note
The bubble icons on the Staff page show you which days a specific staff member is available during the current week.