In this article, learn an overview of what the Dashboard displays.
APPLIES TO: Admins
Last updated: May 26, 2023
Dashboard
Each time you log in to Upper Hand as an Admin, you will be directed to the Dashboard. Below is an overview the information displayed on the Dashboard. The information displayed will show for that current 7-day week (Sunday-Saturday) as well as comparison to last week's numbers listed below each category.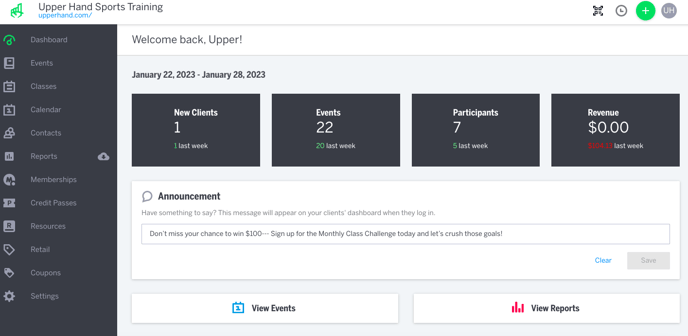 New Clients - The number of new client accounts created in your instance during the week.
Events - The number of sessions completed during the week.
Participants - The number of participants signed up for session during the week.
Revenue - The amount of Revenue processed in the software during the week. Note: This would not include Pay Later orders or future scheduled payments from payment plans or memberships.
Announcement - A message you can display to all your clients when they log in to their Upper Hand account. Learn how to create an Announcement.
View Events - A link that will take you to your Manage Events page.
View Reports - A link that will take you to the Contacts Report.