APPLIES TO: Admins and Clients
Last updated: August 9, 2023
If you find yourself receiving one of the following errors when utilizing Point of Sale or trying to check out, reference the information below to help troubleshoot the issue.
Credits have expired or are not yet available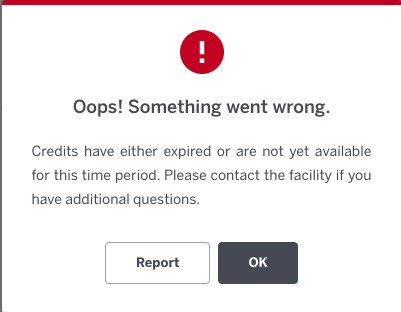 One reason this error message will pop up is if you are trying to schedule your credits outside your current billing cycle. For example, if your current membership billing cycle is January 15 - February 15, you will not be able to schedule credits for sessions past February 15 until your billing cycle renews for the next month.
Cannot add to cart: Attendee must be within set age restrictions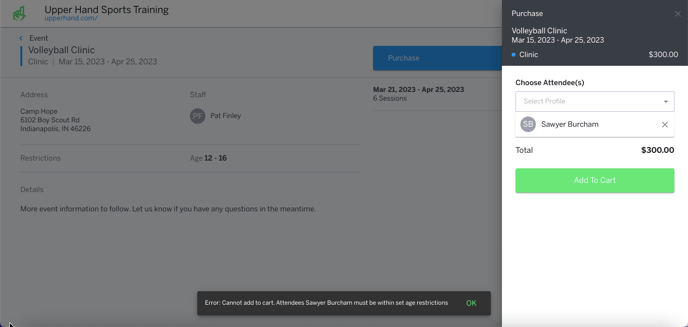 If there are specific age ranges for the event and the profile you are trying to register is not within the age range, you will not be able to book. You will need to either change the date of birth on file or find another event in your age range.
Cannot complete order with unsaved card if recurring payment is present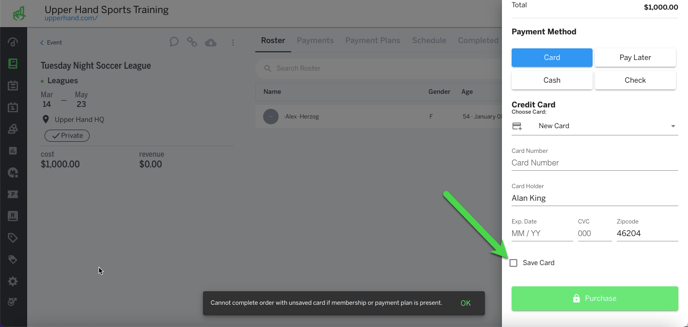 If you are trying to register an attendee for an item that requires a recurring payment (membership or event with a payment plan) you will not be able to purchase the item without selecting the Save Card box at checkout. This is because the software needs to have a default card saved on file for your future recurring payments.
Allow Staff Access to Payments
If you are trying to check out and receive an error message stating "Access to saved payment methods has been restricted by the purchaser." you will need toggle on Allow Access in your Payments tab of your profile to proceed.
If you are a staff member and receive the error message "Client must turn on Staff Access to save during Point of Sale (POS)" or "Access Denied" when viewing their payment methods in their client profile, that means the client has disabled Staff access to payments and you will need to request them to enable the setting in order to proceed.