In this article, learn how to upload your company logo to your Upper Hand account.
APPLIES TO: Admins
Last updated: July 19 2023
Admins are able to upload a company logo to the account which will appear for any user in their business instance when they login to their Upper Hand account. To upload your company logo, follow the steps below.
Upload your company logo
Log in to your Upper Hand account and hover over the main navigation bar on the left hand side, click Settings
Under the Business Info tab, click the icon where the logo is to pull up the image uploader.
Click Upload in the top left corner of the image uploader
Find the image you would like to use on the computer and select it to load it into the image upload.
Crop if necessary and then select Confirm to finish uploading the image.
Make sure to click Save at the bottom to confirm your changes.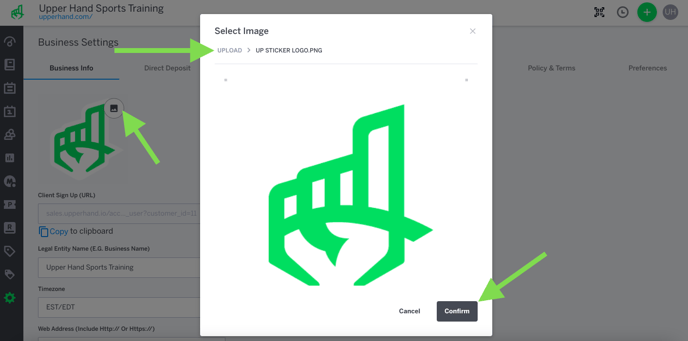 To further your understanding of this feature, be sure to check out the course: 03. Upper Hand Account Setup inside Upper Hand University.