This article will help you learn how to create a resource in Upper Hand.
APPLIES TO: Admins
Last Updated: July 18, 2023
Creating Resources that are tied to a specific space or area in your facility ensures you aren't double booking your clients.
Important Things to Note
You will need to assign resources to events in order for them to be reserved. Learn how to add resources to fixed schedule events, open booking events and classes.
Clients will not be able to see your Resources or select a Resource at checkout.
How to Create a Resource
Log in to your account and click Resources in the navigation panel on the left hand side
Click on the plus sign located on the top left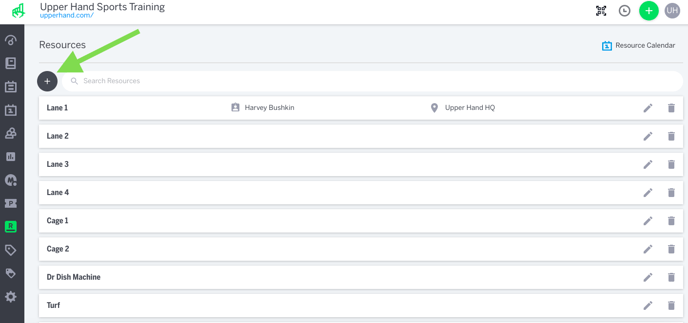 Give the Resource a name

By selecting Allow staff preference you can assign a resource to a certain staff. Ex: Coach Jones likes giving lessons in batting Cage #1, you can set that as his preference and if that cage is available the software will assign him in that cage for lessons.
By selecting Link resource to a location you can tie specific resources to specific locations if you have multiple locations inside of your account.
You can enter the Square Footage of a specific resource to allow Upper Hand to help track your revenue per square foot.