In this article, learn how to download roster information for a specific event.
APPLIES TO: Admins and Staff
Last Updated: February 23, 2023
When creating an event, you are able to add Registration Fields at checkout to collect further information about your participants, if necessary. If you are wondering where the information is accessible, this article will show you the steps to download your event registration details and also what information is included by default so you know which information is not relevant to ask as an additional registration field.
Download Roster
Log in to your Upper Hand account and hover over the main navigation bar on left, click Events
Click on the event that you would like to download the list of registrations for
In the Event Admin View, click the cloud icon next to the chain-link icon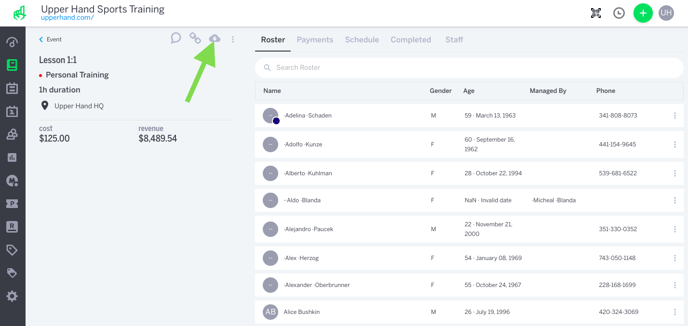 This will download the list of registration details to a CSV file for your review.
Event Registrations Spreadsheet
Inside the CSV file you will find the following event information:

Event ID
Event Title
Exported At: The time the export was downloaded
URL: The admin event URL
Dates: The dates of the event

Every registration details will also include by default (blank cells mean the information was not filled out at the time of registration):

Participant First Name
Participant Last Name
Participant Email (if applicable)
Participant Age
Participant DOB
Participant Gender
Participant Phone (if applicable)
Managed By Name (if applicable)
Managed By Email (if applicable)
Managed By Phone (if applicable)
Street Address
City
State
Zip Code

Any additional fields that you have asked your participants to include at checkout will be listed as additional columns after Zip Code
Note: Once you have the spreadsheet downloaded, you can use your spreadsheet filters to sort the list in alphabetical order if you would like. The check-in drawer will also list the participants in alphabetical order by last name.