In this article, learn about the difference in permissions granted to a user based on their user type.
APPLIES TO: Admins
Last Updated: June 29, 2023
Permissions can't be changed or updated so before inviting a user to the software, it's a good practice to review the preset list of permission sets below so you invite them correctly.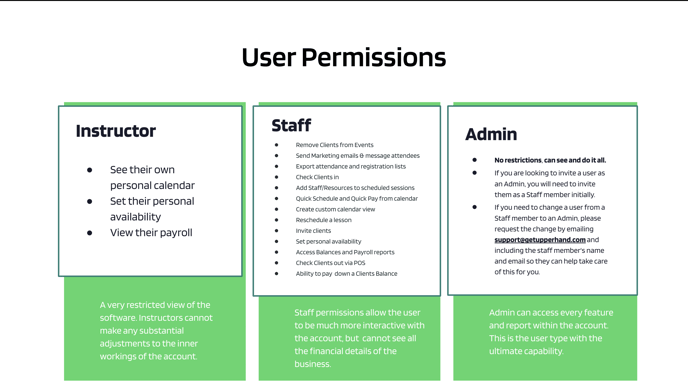 Admin
No restrictions, can see it all and do it all
If you are looking to invite a user as an Admin, you will need to invite them as a Staff member initially.
If you need to change a user from a Staff member to an Admin, please request the change by emailing support@getupperhand.com and including the staff member's name and email so they can help take care of this for you.
Staff Members
Events
Calendar
Contacts
Reports
Point Of Sale (POS)

Check Clients out via Point of Sale (POS)

Payments

The ability to pay down a client's balance
Instructor
They can:
See their own personal calendar
Set their availability
View their payroll
They cannot:
Access Point of Sale
Book Clients
Check Clients In
Charge Clients or see their contact information